Morocco has a lot of things to experience and to see, while traveling morocco you probably wonder what type of activities you can do, you may think of big cities like Marrakech, Fes or Casablanca at first, while these cities reflects both traditional and modern morocco, there is another hidden Morocco to be discovers through new activities, activities that not so many tourists think of, in this article I invite you to discover the Moroccan culture in a more deeper level, in a way that you will consider going not only to the big cities and famous places but to give a thought about going to villages, small towns and hidden places.
Here are 3 different activities to consider while travelling Morocco:
The ouzoud falls are a series of falls located in the center of morocco in the high mountains of the Atlas region, near Beni Mellal and Azilal the town famous by its handmade rugs and other crafts, it is one of the places that are easily accessible for visitors and tourists as there is public transportation available and very affordable for everyone, but also there is a possibility to book a guided tours from Marrakech or from other cities like Azilal or Beni Mellal directly to ouzoud falls and that includes transportations, food and also drinks and some other services depending on what company you book with.
The Ouzoud water falls are a very peaceful place to enjoy the sounds of water flowing, the sounds of birds, the fresh air and the amazing sights. There is a presence of a bunch of restaurant and local food services that offers Tajines, Couscous, mint tea or other local dishes, you may also notice some monkeys while you are around, they are generally very approachable and don't hurt people as they are familiar with their presence, but be careful as they can steal your food, so watch out!
Enjoy the spectacular view of these falls, cross the river to the other side to take picture and to get the most out of your visit, we recommend visiting Ouzoud during the week and not in the weekends as it gets busy sometimes so its hard to enjoy it to the fullest.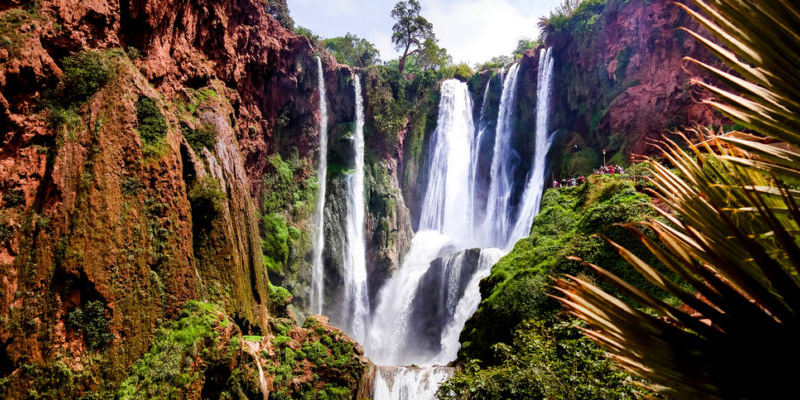 One of the best activities you can do while traveling morocco, is going on a safari to the desert, at merzouga town particularly as it is the most famous spot for desert excursions lovers or any other southern Moroccan city, the things you can do on your trip to the Sahara are numerous and fun, for example  you can ride camels, camp, eat traditional tajines, enjoy sunset in the middle of the Sahara, or rent a quad to drive in the huge dunes
At your arrival, you will get your blue scarf to put it on you like the locals in order to protect you from the sun and the sand as the weather in this region in Morocco can be though sometimes
Wander and take pictures in the massive sand dunes, take desktop pictures also if you are into this because I assure you it is nothing like you've seen before
If you decided to spend the night there, remember to bring a warm jacket and some warm clothes as it gets cold at night, but eventually you can light up some fire in the camp in order to get warm and enjoy talking to people traveling with you around it along with mint tea or coffee and make some new connections and why not friendships.
Wake up to a beautiful sunrise from the dunes and the huge amount of sand, creating a palette of colors that will amaze you and make you want to take picture of such a beautiful scene.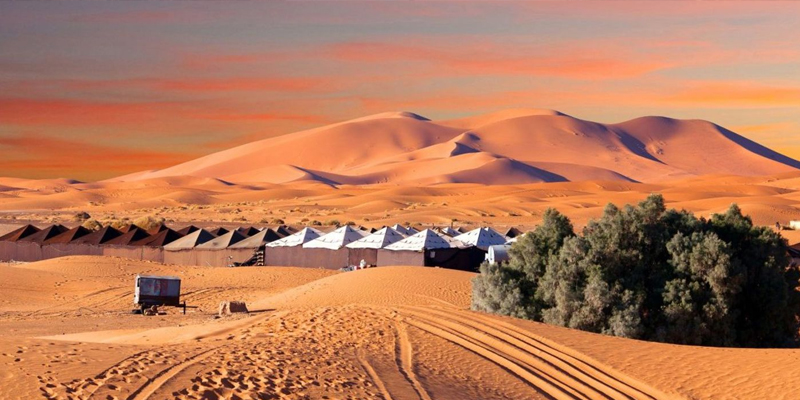 This time it's a city in north Morocco, it is a unique city that will remind you of both Chefchaouen and Essaouira if it happened that you visited them both, a coastal peaceful city , not far from Tangier, it is a an underrated  town, characterized by its narrow streets, with a mixture of white blue and green painted murals, deserted in the winter season but full of tourists during the summer, that are mainly Moroccans, external tourists in Asilah are rare, at the exception of Spanish people that mostly come for a quick visit to the north of Morocco during the weekends if they can, it's very small that you can finish the tour of the whole town in less than 3 hours
Local restaurants serve fish mainly, and at breakfast you can have fresh orange juice, mint tea or a cup of coffee and milk, along with Msemen, another local breakfast meal is paissar which is a soup from dry lentils served with olive oil during the winter months
A big percentage of the people in asilah speak Spanish along with Arabic instead of French and this is due to the history of Spanish colonization of the northern morocco back then in the early 1900, the Spanish touch is appearing in the architecture of some buildings around the city
Aqilah is a calm and comfortable city that you should definitely include in your to do list of traveling Morocco, at least for a quick visit.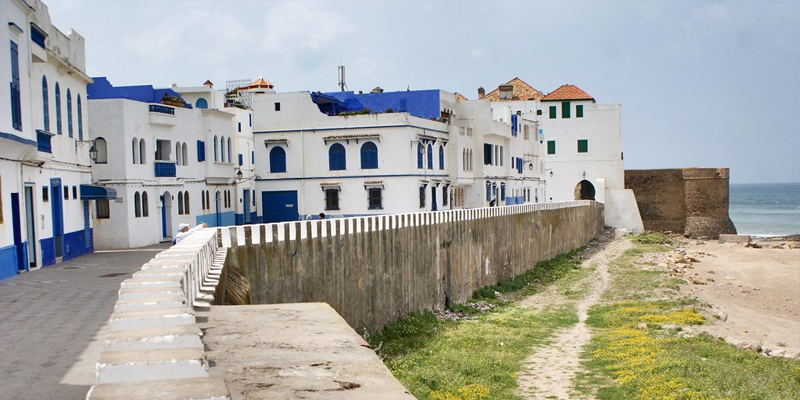 These were 3 activities to do while traveling Morocco, of course there is a multitude of activities you can do in this north African country, it is really the country of contrasts as you can experience hot weather degrees on a region and just near it on another region you can be surprised by snow and snowy peaks and on another green lands and trees
So, what is your next activity in morocco, are you willing to visit morocco any soon?
Please don't hesitate to tell us what your plans for morocco, and feel free to reach to us if you have any questions or concerns through comments, social media channels or email: atlasprivatetours@gmail.com